Fabricated Foam Inserts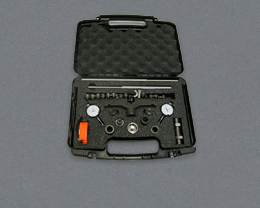 Foam case inserts (also called case inlays) can be a great way to showcase a precious item while keeping it safe. Foam is the material of choice due to its unique physical properties, varieties of materials, densities, and firmness, color choices, and the varied method of fabrication available.
Custom foam inserts for cases or foam trays can be die cut, contour cut, or compression cut. If you are packaging rounded items, compression cut foam provides a scooped-out cavity that hugs and protects your items. All fabricated foam inserts are available with convoluted foam lids or lids and bottoms. Flocked foam can be added to the top layer to give your insert vibrant color options.
Types of Case Inserts
Foamcraft USA has created foam case inserts for the following:
Medical products
Pelican cases
Firearms including guns and rifles
Cameras and other electronic equipment
Guitars and other musical instruments
Microphones and other sound equipment
Demo items 
Gifts
Corporate awards
Jewelry cases
Wine & liquor bottles
Glasses
Toolboxes
Foam can help enhance the interior appearance of your case. We will work with your design or offer our in-house design, engineering, and prototyping to make your foam case inserts and foam trays unique and professional. We will listen to you and provide exactly what you are looking for or suggest alternate ways to shave down costs or improve the appearance of your foam case insert to heighten your product's visual appeal. To get started, request a quote today for the best custom foam insert trays in Chicago!