Compression Cut Foam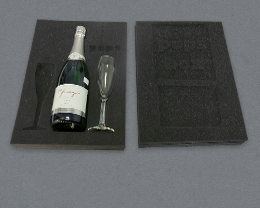 At Foamcraft USA, we offer compression cutting services. This process uses a technique called "controlled distortion at the point of cutting" to produce compression cut foam parts. A machine is loaded with a special tool (engineered in our facility) that literally compresses foam parts against it to form finished parts.
The best way to look at this foam cutting technology is a tray. When one thinks of a tray, the traditional methodology would be to die cut a top layer, die or saw cut a bottom layer, and then laminate them together to form the tray. Our foam compression cutting service literally scoops out the cavity or cavities so you have a one piece tray at a lower cost than a die cut one and with significantly lower tooling cost.
When Should I Use Compression Cutting?
Compression cutting is best suited for packaging round items including wine bottles, liquor bottles and glasses. The scooped out cavity configuration hugs and protects these items all the way under for superior protection. It is a great method for creating foam case inserts to protect your products from damage associated with transportation. Our compression cutting services are available for all polyurethane foams.
We also have the capability to emboss your name or logo onto the foam.
If you have foam tray requirements, contact Foamcraft USA for a quote.